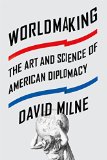 Worldmaking: The Art and Science of American Diplomacy
Interview with David Milne
July 21, 2016
Sign Up. Full interview.
About David Milne
Interview Summary
In the course of a century, U.S. foreign policy has repeatedly switched from overseas interventions to domestic issues only to swing again. Nine policymakers, or influencers, have managed to change the direction of the country's foreign policy with mixed results. David Milne provides detailed portraits and balanced viewpoints of these nine prominent individuals who sought to formulate the world in line with their own perspective and agenda.
The cast of characters covered include theorist Albert Thayer Mahan, universalist Woodrow Wilson, isolationist Charles Beard, pragmatist George Kennan, realist Walter Lippmann, hawkish Paul Nitze, manipulative Henry Kissinger, militant Paul Wolfowitz to pragmatist Barrack Obama.
Key Topics
What have been the major shifts in U.S. foreign policy since the early 20th century?
What is the philosophical foundation of America's foreign policy?
Woodrow Wilson's geopolitical philosophy at the end of First World War
National interest vs Idealistic adventure
Who have been the architects of diplomatic relations between the U.S. and the rest of the world?
Other Books by Author