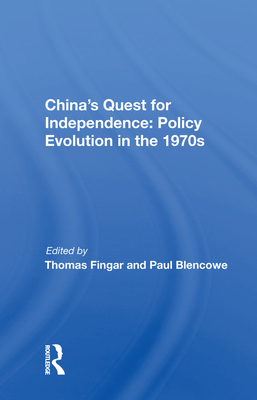 Routledge
China's Quest for Independence: Policy Evolution in the 1970s: Policy Evolution in the 1970s
0

Rate this book

Key Metrics
Routledge

Hardcover

9780367021573

-

-

Political Science > Political Process - General

English
$0
Available Copies:
0 Copies

Secure Transaction
Book Description
This examination of policy developments in the People's Republic of China since the Cultural Revolution addresses two central questions: (1) how durable were foreign and domestic policies during the 1970s; and (2) what is the relationship between foreign and domestic policy and between both of these policy areas and internal political maneuvering? Studies of five broad policy areas reveal that most policies were very stable during this period and that foreign policy was linked to domestic issues and political competition only to the extent that it impinged on domestic interests. The studies trace the evolution of policies on specific issues such as education, foreign trade, and military doctrine, but they also evaluate these policies and decisions in the larger context to which they belong. Key decisions at the start of the decade affected the evolution of policy in all areas and largely shaped the change from adherence to precepts of the Cultural Revolution to the conviction that economic and technical emphasis must displace efforts to achieve social equality in the short run if China is to become a secure and independent nation.
China's Quest for Independence: Policy Evolution in the 1970s: Policy Evolution in the 1970s
Author Bio
Thomas Fingar is a Shorenstein APARC Fellow in the Freeman Spogli Institute for International Studies at Stanford University. He was the inaugural Oksenberg-Rohlen Distinguished Fellow from 2010 through 2015 and the Payne Distinguished Lecturer at Stanford in 2009.
From 2005 through 2008, he served as the first deputy director of national intelligence for analysis and, concurrently, as chairman of the National Intelligence Council. Fingar served previously as assistant secretary of the State Department's Bureau of Intelligence and Research (2000-01 and 2004-05), principal deputy assistant secretary (2001-03), deputy assistant secretary for analysis (1994-2000), director of the Office of Analysis for East Asia and the Pacific (1989-94), and chief of the China Division (1986-89). 
Between 1975 and 1986 he held a number of positions at Stanford University, including senior research associate in the Center for International Security and Arms Control.
Fingar is a graduate of Cornell University (A.B. in Government and History, 1968), and Stanford University (M.A., 1969 and Ph.D., 1977 both in political science). His most recent books are From Mandate to Blueprint: Lessons from Intelligence Reform (Stanford University Press, 2021), Reducing Uncertainty: Intelligence Analysis and National Security (Stanford University Press, 2011), The New Great Game: China and South and Central Asia in the Era of Reform, editor (Stanford University Press, 2016), Uneasy Partnerships: China and Japan, the Koreas, and Russia in the Era of Reform (Stanford, 2017), and Fateful Decisions: Choices that will Shape China's Future, co-edited with Jean Oi (Stanford, 2020). 
His most recent article is, "The Role of Intelligence in Countering Illicit Nuclear-Related Procurement," in Matthew Bunn, Martin B. Malin, William C. Potter, and Leonard S Spector, eds., Preventing Black Market Trade in Nuclear Technology (Cambridge, 2018)."
Dr. Fingar is currently researching China and the World.
Source: Stanford University Freeman Spogli Institute for International Studies
more