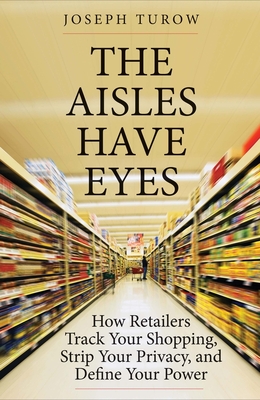 Yale University Press
The Aisles Have Eyes: How Retailers Track Your Shopping, Strip Your Privacy, and Define Your Power
0

Rate this book

Key Metrics
Yale University Press

Paperback

9780300234695

9.1 X 6.2 X 1 inches

0.9 pounds

Business & Economics > Consumer Behavior - General

English
$0
Available Copies:
0 Copies

Secure Transaction
Book Description
A revealing and surprising look at the ways that aggressive consumer advertising and tracking, already pervasive online, are coming to a retail store near you
By one expert's prediction, within twenty years half of Americans will have body implants that tell retailers how they feel about specific products as they browse their local stores. The notion may be outlandish, but it reflects executives' drive to understand shoppers in the aisles with the same obsessive detail that they track us online. In fact, a hidden surveillance revolution is already taking place inside brick-and-mortar stores, where Americans still do most of their buying. Drawing on his interviews with retail executives, analysis of trade publications, and experiences at insider industry meetings, advertising and digital studies expert Joseph Turow pulls back the curtain on these trends, showing how a new hyper-competitive generation of merchants--including Macy's, Target, and Walmart--is already using data mining, in-store tracking, and predictive analytics to change the way we buy, undermine our privacy, and define our reputations. Eye-opening and timely, Turow's book is essential reading to understand the future of shopping.
The Aisles Have Eyes: How Retailers Track Your Shopping, Strip Your Privacy, and Define Your Power
Author Bio
Joseph Turow is Robert Lewis Shayon Professor of Media Systems & Industries at the Annenberg School for Communication. Turow is an elected Fellow of the International Communication Association and was presented with a Distinguished Scholar Award by the National Communication Association. A 2005 New York Times Magazine article referred to Turow as "probably the reigning academic expert on media fragmentation." 
In 2010, the New York Times called him "the ranking wise man on some thorny new-media and marketing topics." In 2012, the TRUSTe internet privacy-management organization designated him a "privacy pioneer" for his research and writing on marketing and digital-privacy.
He has authored twelve books, edited five, and written more than 160 articles on mass media industries. His most recent books are The Voice Catchers: How Marketers Listen In to Exploit Your Emotions, Your Privacy, and Your Wallet (Yale, 2021), Media Today: Mass Communication in a Converging World (Routledge, 2020), and The Aisles Have Eyes: How Retailers Track Your Shopping, Strip Your Privacy, and Define Your Power (Yale, 2017). 
In 2011, Yale University Press published his book The Daily You: How the New Advertising Industry is Defining Your Identity and Your World; a Turkish edition came out in 2015. In 2010, the University of Michigan Press published Playing Doctor: Television, Storytelling, and Medical Power, a history of prime time TV and the sociopolitics of medicine, and in 2013, it won the McGovern Health Communication Award from the University Of Texas College of Communication. Other books reflecting current interests are Niche Envy: Marketing Discrimination in the Digital Age (MIT Press, 2006); Breaking Up America: Advertisers and the New Media World (University of Chicago Press, 1997; paperback, 1999; Chinese edition, 2004); and The Hyperlinked Society: Questioning Connections in the Digital Age (edited with Lokman Tsui, University of Michigan Press, 2008).
Turow's continuing national surveys of the American public on issues relating to marketing, new media, and society have received a great deal of attention in the popular press, as well as in the research community. He has been interviewed widely about his research, including by NPR's Fresh Air with Terry Gross, The Atlantic, the BBC, CBS News, and elsewhere. He has also written about media and advertising for the popular press, including the New York Times, 
The Atlantic, American Demographics magazine, the Washington Post, the Boston Globe, and the Los Angeles Times. His research has received financial support from the Digital Trust Foundation, the John D. and Catherine T. MacArthur Foundation, the Kaiser Family Foundation, the Robert Wood Johnson Foundation, the Federal Communications Commission, and the National Endowment for the Humanities, among others.
Turow was awarded a Lady Astor Lectureship by Oxford University. He has received several conference paper and book awards and has lectured widely. He was invited to give the McGovern Lecture at the University of Texas College of Communication, the Pockrass Distinguished Lecture at Penn State University, and the Chancellor's Distinguished Lecture at Louisiana State University. He currently serves on the editorial boards of the Journal of Broadcasting and Electronic Media, the International Journal of Communication, and Media Industries. 
He also has served as the elected chair of the Mass Communication Division of the International Communication Association.
Source: Annenberg School of Communication, University of Pennsylvania 
more