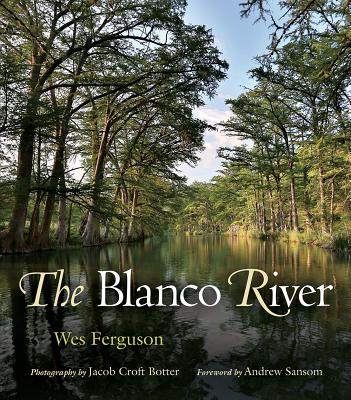 Texas A & M University Press
The Blanco River
0

Rate this book

Key Metrics
Texas A & M University Press

Paperback

9781623495107

10.2 X 9.1 X 0.6 inches

1.9 pounds

Nature > Ecosystems & Habitats - Rivers

English
$0
Available Copies:
0 Copies

Secure Transaction
Book Description
For eighty-seven miles, the swift and shallow Blanco River winds through the Texas Hill Country. Its water is clear and green, darkened by frequent pools. Wes Ferguson and Jacob Botter have paddled, walked, and waded the Blanco. They have explored its history, people, wildlife, and the natural beauty that surprises everyone who experiences this river.

Described as the defining element in some of the Hill Country's most beautiful scenery, the Blanco flows both above and below ground, part of a network of rivers and aquifers that sustains the region's wildlife and millions of humans alike. However, overpumping and prolonged drought have combined to weaken the Blanco's flow and sustenance, and in 2000--for the first time in recorded history--the river's most significant feeder spring, Jacob's Well, briefly ceased to flow. It stopped again in 2008. Then, in the spring of 2015, a devastating flood killed twelve people and toppled the huge cypress trees along its banks, altering not just the look of the river, but the communities that had come to depend on its serene presence.

River travelers Ferguson and Botter tell the remarkable story of this changeable river, confronting challenges and dangers as well as rare opportunities to see parts of the river few have seen. The authors also photographed and recorded the human response to the destruction of a beloved natural resource that has become yet another episode in the story of water in Texas.

To learn more about The Meadows Center for Water and the Environment, sponsors of this book's series, please click here.
The Blanco River
Author Bio
Wes Ferguson, a Senior Editor for Texas Monthly, is the author of The Blanco River (Texas A&M University Press, February 2017) and Running the River: Secrets of the Sabine (Texas A&M University Press, 2014). A 2019 inductee in the Texas Institute of Letters, he is a former Managing Editor of Texas Highways, the official travel magazine of Texas. 
His article "When Angels in America Came to East Texas," from the November 2019 issue of Texas Monthly, was a finalist for a 2020 National Magazine Award in Feature Writing from the American Society of National Magazine Editors.
Wes has edited and written for several newspapers and magazines, covering Bigfoot sightings, business, crime, environmental issues, and backyard wrestling. He also briefly taught snow skiing in Australia. 
A graduate of the University of Texas at Austin, where he worked for The Daily Texan, Wes grew up in the Piney Woods community of Liberty City, outside Kilgore, and got his start at The Flare, the student newspaper of Kilgore College. In addition to his writing for Texas Monthly, Wes is working on a book about El Camino Real de los Tejas National Historic Trail.
Source: wesferguson.net
more