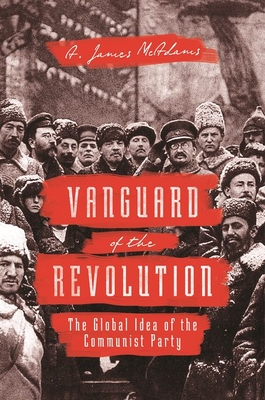 Princeton University Press
Vanguard of the Revolution: The Global Idea of the Communist Party
0

Rate this book

Key Metrics
Princeton University Press

Paperback

9780691196428

8.8 X 5.7 X 1.5 inches

1.7 pounds

Political Science > Political Ideologies - Communism, Post-Communism & Socialism

English
$0
Estimated Arrival:
Dec 7 -Dec 9
Available Copies:
10+ Copies

Secure Transaction
Book Description
The first comprehensive political history of the communist party
Vanguard of the Revolution is a sweeping history of one of the most significant political institutions of the modern world. The communist party was a revolutionary idea long before its supporters came to power. A. James McAdams argues that the rise and fall of communism can be understood only by taking into account the origins and evolution of this compelling idea. He shows how the leaders of parties in countries as diverse as the Soviet Union, China, Germany, Yugoslavia, Cuba, and North Korea adapted the original ideas of revolutionaries like Karl Marx and Vladimir Lenin to profoundly different social and cultural settings. Vanguard of the Revolution is essential reading for anyone seeking to understand world communism and the captivating idea that gave it life.
Vanguard of the Revolution: The Global Idea of the Communist Party
Author Bio
A. James McAdams is the William M. Scholl Professor of International Affairs. For 16 years, he was Director of the Nanovic Institute for European Studies. He has also served as chair of the Political Science department. McAdams has written widely on European affairs, especially on central Europe, as well as global communism. His books include East Germany and Detente; Germany Divided; Judging the Past in Unified Germany; and The Crisis of Modern Times. 
His book, Vanguard of the Revolution: The Global Idea of the Communist Party (Princeton University Press, 2017 and 2019), examines the political history of the party from the 1840s to the present. Covering a panoply of communist parties from Germany to Russia, China, Poland, North Korea, Cuba, and many others, the book is the first comprehensive international history of the communist party. Vanguard of the Revolution was named one of the Best Books of 2018 by Foreign Affairs. He has recently published two collections:  1968: Cultural Revolutions in Europe and Latin America (with Anthony Monta) and Contemporary Far-Right Thinkers and the Future of Liberal Democracy (with Alejandro Castrillon).
McAdams is the recipient of honorary doctorates from the Catholic University of Ukraine and the John Paul II Catholic University of Lublin, as well as the Gold Medal of the Catholic University of Slovakia.
McAdams has taught courses at every level of the curriculum. These include undergraduate seminars on "Privacy and the Internet," "Ten Images of Hell in the Twentieth Century," and "Truth, Politics and Democracy"; lecture courses on Comparative Politics and the history of Communism; and a graduate seminar on "Philosophy and Dictatorship." He has won teaching awards across the university, including the Sheedy Award of the College of Arts and Letters, the Madden Award of the First-year of Studies, the Kaneb Award, the Kellogg Institute Mentorship Award, and the Joyce Teaching Award (twice).
Source: University of Notre Dame Department of Political Science 
more
Videos